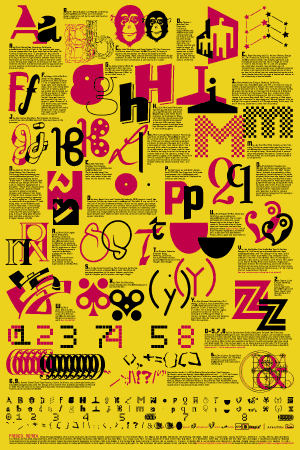 FRISCO_REMIX. 34 Bay Area type designers, letter artists and illustrators in 1 font.
Michael Abbink, Erik Adigard, Bob Aufuldish, Mike Bartalos, John Bielenberg, Adam Brodsley, Rodrigo Cavazos, Richard Chang, G. Dan Covert, Claudia Dallendörfer, Joshua Distler, Edward Fella, Mark Fox, David Lance Goines, Eric Heiman, Jim Parkinson, Rudy Vanderlans, Stefan Hattenbach, John Hersey, Allistair Johnston, Mr. Keedy, Max Kisman, Mike Kohnke, Joe Kral, Jean-Benoit Lévy, Zuzana Licko, Peter Lofting, Joachim Müller-Lancé, Dennis Pasco, Doug Raphael, Erik Spiekermann, Sumner Stone, Joe VanDerBos, Mark Winn, Delve Withrington.

Frisco_Remix is produced by Max Kisman for Holland Fonts on the occasion of the AIGA event "Spaced Out. Black Holes In Typography" on October 1, 2003 in the Academy of Art College's Morgan Auditorium in San Francisco, and is available for free until 31 December 2003. Copyrights of individual character designs are owned by their designers. All rights reserved.

More about Frisco_Remix in Holland Fonts/Tribe

Download Frisco_Remix (v 1.0):

Download the FRISCO_REMIX
PDF poster!