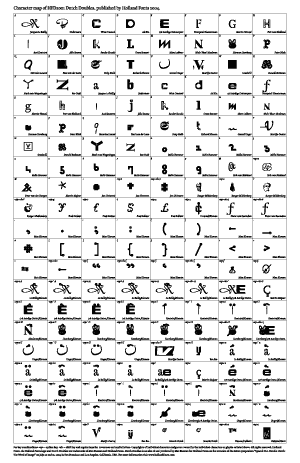 Dutch Doubles, an alphabet with designs by 178 Aardige Ontwerpers, Jacques Le Bailly, Onno Bevoort, Donald Beekman, Peter Bilak, Erik van Blokland, Petr van Blokland, Ben Bos, Jelle Bosma, Wim Crouwel, Jan Dietvorst, Severin Frank, Melle Hammer, Will Holder, Peter van den Hoogen, Fred Inklaar, Sander Kessels, Ad Kin, Max Kisman, Peterpaul Kloosterman, Assi Kootstra, Paul van der Laan, Harmen Liemburg, Harmine Louwé, Marc Lubbers, Martin Majoor, Niels 'Shoe' Meulman, Rutger Middendorp, Richard Niessen, Martijn Oostra, Bas Oudt, Pieter van Rosmalen, Swip Stolk, Underware, Gerard Unger, Mark van Wageningen, Martin Wenzel.

Dutch Doubles is featured in the book 'Double Dutch: The word of Image' with texts by Max Bruinsma, Frans Oosterhof Jan Middendorp and Max Kisman and visuals by various Dutch and American graphic designers and artists.

Double Dutch and Dutch Doubles are produced on the occasion of the AIGA symposium 'Spaced Out. Double Dutch: The Word of Image' on July 20, 2004 and July 21, 2004 in San Francisco and Los Angeles, California, USA. Copyrights of individual character designs are owned by the individual characters or glyphs as listed above. All rights reserved.

Download Dutch Doubles:

Get the Dutch Doubles PDF character map!