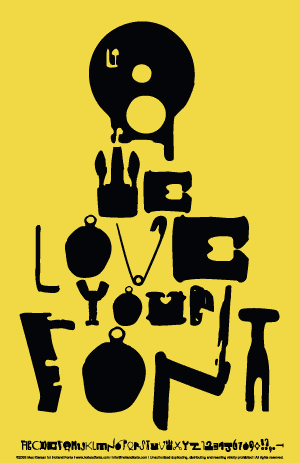 Max Kisman: In a paper bag, I save all kinds of small objects, which somehow make me think of letters or otherwise intreguing symbols. Cardboard hands for gloves holders, plastic bread bag clips. hinges, can openers, spark plugs, wooden ice cream sticks or ice cream spoons, nails, file separators, fishing weights, and so on.

Shapes, now out of context, which have lost their meaning. They are orphans of an forgotten language.

The WE LOVE YOUR font is an experimental set of characters derived from my 1986 TYP/Typografisch Papier contribution "What every Dutch boy carries in his pockets", an alphabet composed of small found objects. I used this idea in an extended form for my typography workshop "A LETTER CAN BE ANYTHING CAN BE A LETTER", at the CCA, San Francisco, June 2003.

Download WE LOVE YOUR font for FREE, and use for anything, but modifying, distributing, reselling the font to individuals or third parties and/or republishing of the font in any form in print or electronic/digital media is strictly prohibited.

Although this font is offered to you for free, the conditions of the Holland Fonts Licence agreement apply to the use of this typeface and the font is licenced to 1 CPU. If you need to extend the format of the licence, you must contact Holland Fonts at info@hollandfonts.com.


Download the WE LOVE YOUR PDF poster!