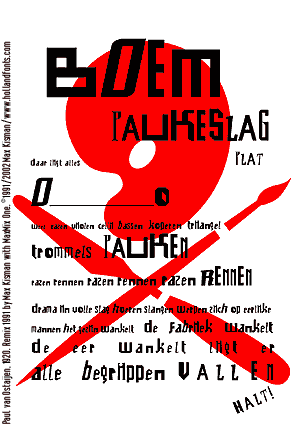 The MaxMix-One font is a compilation of characters from various fonts designed by Max Kisman between 1985 and 1991.

'Boem Paukeslag' is a poem by Paul van Ostaijen from the bundle 'De Bezette Stad' (The Occupied City), Berlin 1920.

The remix of the poem using MaxMix-One was originally published as a poster by TYP/Typografisch Papier in the Netherlands in 1991.

Download MaxMix-One font for FREE, and use for anything, but modifying, distributing, reselling the font to individuals or third parties and/or republishing of the font in any form in print or electronic/digital media is strictly prohibited.

Although this font is offered to you for free, the conditions of the Holland Fonts Licence agreement apply to the use of this typeface and the font is licenced to 1 CPU. If you need to extend the format of the licence, you must contact Holland Fonts at info@hollandfonts.com.

Complete Max Kisman typefaces used in MaxMix-One are available from the FontFont library.